It's no surprise technology is moving quickly. My friend recently observed the following experience:
"The other day I sat on campus and watched as an older man and woman walk-jogged through the hallway. The couple suddenly stopped to look at a large screen that displayed a series of eye-catching, scrolling advertisements. The gentleman paused to look, and then attempted to swipe on the advertisement, repeatedly, then in frustration. What he initially mistook as a broken tablet was a TV without touch-screen capabilities."
"Though I was amused at first by this situation, I was ultimately reminded how quickly we abandon old technologies and adopt new."
How technology has progressed for the millennial generation
We're the generation who had front row seats for the emergence of social networks such as Facebook, Instagram, and Snapchat. YouTube has continued to attract millions of viewers. In 2015, "How-to" content alone has reached over 100 million viewers in North America. (Gesenhues, 2015). It seems technology is moving faster than any one of us could have imagined.
"Looking across the globe, the average millennial (age 16-30) with internet access spends 3.2 hours a day on their mobile devices – the equivalent of 22.4 hours – almost a whole day – every week. That's 1,168 hours or 49 days over the course of a year" (TNS, 2015). 
Sadly, "24% of smartphone owners admit to having pornographic material on their mobile handset" (Covenant Eyes, 2015).
"One in five mobile searches are for pornography" (2015). How many searches could that possibly be, you ask? "By 2017, a quarter of a billion people are expected to be accessing mobile adult content from their phones or tablets, an increase of more than 30% from 2013" (Covenant Eyes, 2015).
With the emergence of social networking, mobile devices, and high speed internet, pornography consumption has evolved unrecognizably far since the baby boomer generation, and no longer are young adults sneaking into the back rooms of sketchy shops to find pornography or hiding magazines under mattresses.
Pornography is no longer exclusive to those who seek it out, it is subtly integrated into the majority of our movies, songs, video games, and it is available on every device we carry. Pornography finds us.
Relationship between technology and pornography
Technological advances and pornography are interrelated. Edelman stated, "The adult entertainment industry has repeatedly proven to be among the first to adopt new imaging technologies", (such as DVD, Blu Ray, etc.) (2009). The porn industry has paying customers who are willing to pay more for new technologies, and who will adopt them faster than general consumers in order to improve their viewing experience.
The future of porn
For years, dolls have been manufactured for sexual partnering (Grinberg, 2016), and for a while that seemed extreme. Today however, we see an update to the doll – a robot – as well as VR (virtual reality) being introduced as an even more realistic depiction of pornographic experiences.
One reporter (Wong) for Mashable who tried VR porn said of his experience, "During another VR porn video, a porn star leaned in so close to lock lips with me that I recoiled back because her VR presence felt so real." He later explained experiencing actual sensory stimulus (smell) as a result of his VR experience. His brain literally could not separate virtual reality from tangible reality.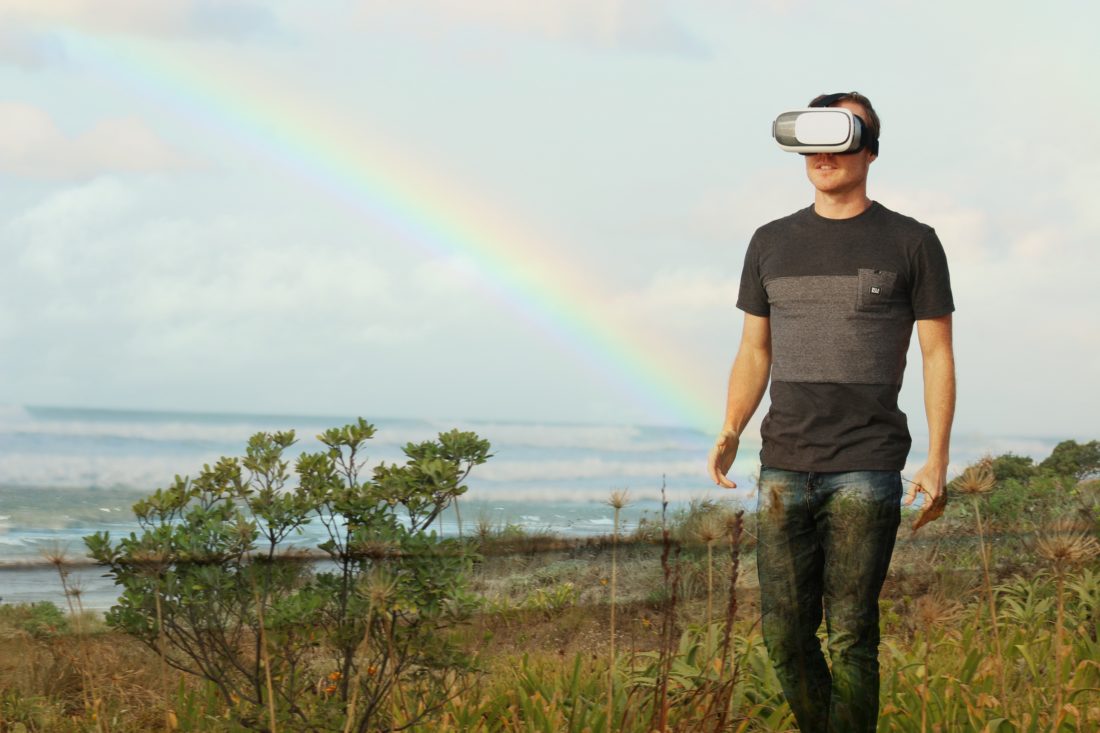 Image source: pexels.com
Wong interviewed the CTO of that same pornography company and discovered their plan to produce two new VR videos per week, until more consumers catch on and then they intend to produce even more (Wong, 2016). If history has taught us anything, it's that pornography shows no signs of getting behind the curve of technology.
The Imitation Game
Technology is not innately negative, however. In the movie The Imitation Game, for example, the actor Benedict Cumberbatch depicted the historical figure Alan Turing. Alan built the first computer, and it ultimately helped save many lives and end a war. However, it only saved lives because it was able to outthink the technology being used by the enemy. So, in this example, technology is fairly neutral, but it is our use of technology that ascribes a negative or positive value to it.  
So, how can I use technology for good?
Much of the issue of pornography exists because historically too few laypersons knew enough to talk about the issue accurately, and too few consumers of the product either wouldn't admit it, or didn't realize the effects it was having on them. Today, more and more studies are beginning to show the damaging effects of pornography on individuals and our culture.
If you are someone who already sees pornography as an issue for the millennial generation and wants to be more informed on the issue, visit reach10.org today. There you can find articles that will both educate you on the issues surrounding pornography use, as well as instruct you as to how you can speak to your peers openly about this issue.
If you are someone who is already passionate about the issue of pornography addiction and recovery and wants to jump in with both feet, then visit our leadership page; we are ready to give you a place to land. Our leadership program will provide you with tangible skills and a platform which you can use to talk to large groups of peers regarding this issue.
Author: Austi Stenson