Last month, Reach 10 met with BYU's Anti-Human Trafficking Club to hear Lana Lichfield
talk about the connection between human trafficking and pornography. She's a recent BYU Public Health graduate, a Reach 10 member, and the Anti-Human Trafficking Club Education Coordinator. She also did an internship last summer with a lobbying group, the National Center on Sexual Exploitation.
Her goal is to fight against the dehumanizing effects of pornography and other forms of sexual exploitation, and her tenacious efforts are inspiring. She has been an incredible role model to us here at Reach 10! She influences the lives of everyone she meets through her enthusiasm and kindness.
We recently sat down with her to discuss her work combating sexual exploitation in its many forms, and her desire to helping others connect with something deeper – their own humanity and the humanity of others around them.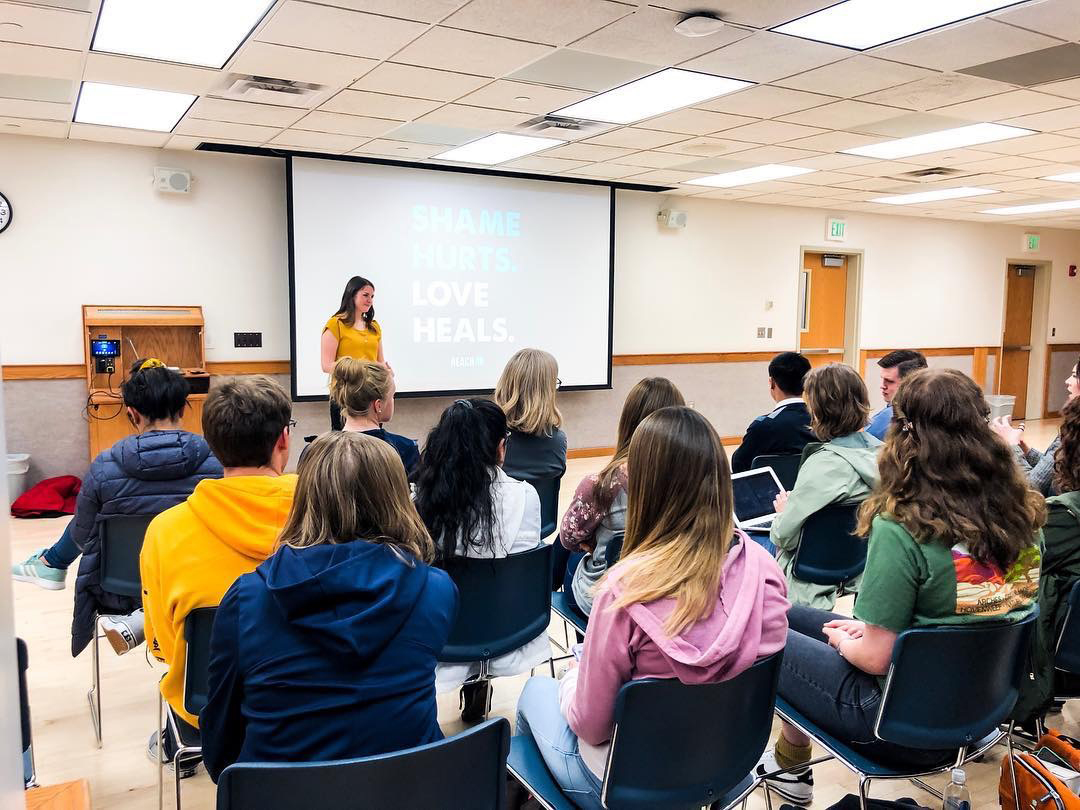 Reach 10: Tell us your story, Lana! What got you interested in anti-pornography and anti-human trafficking issues?
Lana: Growing up, I saw the effects of pornography in the lives of people I knew and loved and thought, "This is a huge problem, and we never talk about it!" My mom was also passionate about the issue so she kind of opened the door for me. In high school, I was really into anti-pornography campaigns and attended events like Utah Coalition Against Pornography (UCAP) Conference. That showed me the possibilities out there for discussing pornography and how to overcome its effects.
Later when had to choose a major in college, I felt really strongly about fighting against pornography. There isn't an "anti-pornography" major out there, though, so I didn't know what to do! In 2016, I heard the National Center on Sexual Exploitation (NCSE) present at the UCAP Conference. I was blown away and knew I wanted to be involved with them in the future somehow. I actually chose my major based on internships they offered. I studied public health and interned with the NCSE the summer before my senior year of college. It was a dream.
Reach 10: What kind of work did you do at the National Center for Sexual Exploitation?
Lana: The NCSE does a lot of work in Washington D.C. influencing policy related to exploitation. When I was there, I compiled articles and data for a big research project they were doing, wrote blog posts, contacted potential donors, and worked really hard! I was also able to go to meetings on Capitol Hill—FOSTA/SESTA had just been passed and it was a really exciting time to be involved.
The other interns and I were also able to go to an anti-human trafficking conference in New York where we heard talks from survivors and those who have experienced exploitation to get a better idea of how to combat sexual assault. It was really impactful. I loved my time in D.C!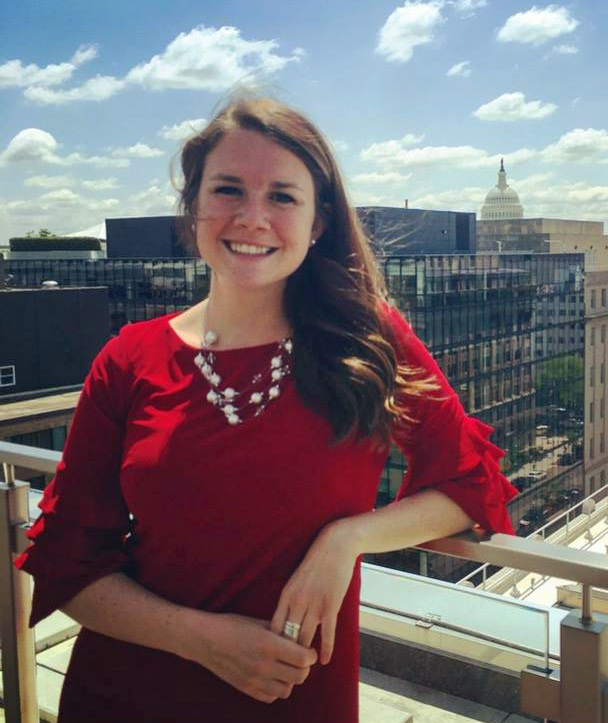 Reach 10: How did you get involved with Reach 10?
Lana: When I was at the NCSE, one of my jobs was to call different people and ask for donations. One of the people that happened to be on my list was Vauna Davis, who started Reach 10! I had known Vauna because she was in charge of UCAP before, and when I saw she was on my calling list I was pumped. When I called her, I explained how I was interning in D.C. and she invited me to get involved with Reach 10 when I got back to Utah. I've been attending Reach 10 meetings and have been involved with similar projects ever since coming back to Utah.
Reach 10: What's the common thread between all the organizations you've been involved in?
Lana: I started out working on anti-pornography campaigns, but I've become more interested in helping people out of prostitution and human trafficking. They may seem like two totally different "industries" but through my research, I've realized that there are two basic elements of both prostitution and pornography: The exploitation of others and the exploitation of self.
Reach 10: What have you learned about pornography and sexual exploitation?
Lana: When I first started, I thought that pornography only hurt the individuals who view it. It certainly is isolating, but it affects more than just the people who watch porn.
I began researching the issues and learned more about people in front of the camera, and I felt compassion for them too. They are victims, knowingly or unknowingly. My work at the NCSE also showed me that people who buy sex in prostitution have their own issues and seek out unhealthy outlets as coping methods, no matter how damaging they actually are.
I realized that there are two sides of the story and that the problem isn't people, the problem is the pornography and prostitution industries. When we can get people the help they need and educate them about using positive coping methods to overcome personal trials, heartache can end and everyone involved can escape the traps those businesses have created.
Reach 10: What do you think is the most important thing to remember when trying to fight pornography, prostitution, and other forms of sexual exploitation?
Lana: The world would have us believe that we are objects, not individuals with human dignity. I strongly believe that the key to alleviating our suffering and that of others is to RECLAIM our humanhood, and to accept and magnify our agency. We can reclaim our responsibility for our own lives and realize that, "Hey, I can change." If we make that conscious decision to reclaim our humanhood, then we can get over difficult habits, outlets, and ways of life. And I think remembering that we are worth the effort to change can help us reach out to others when we struggle with these issues.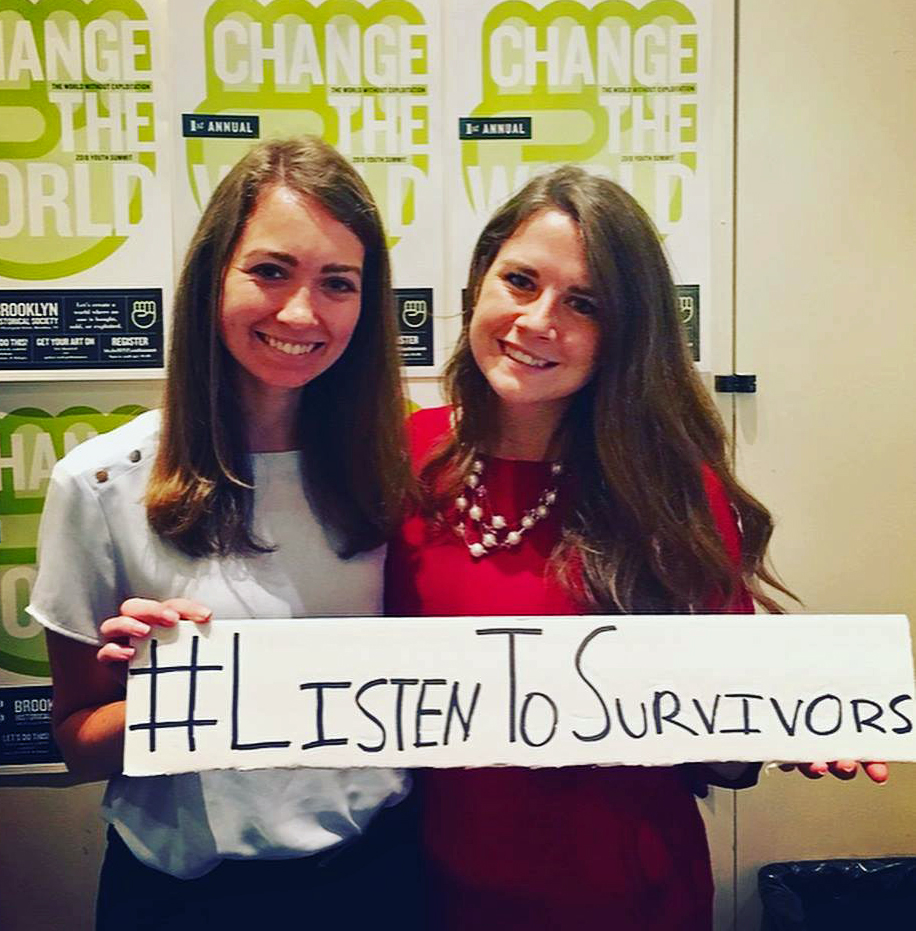 Reach 10: Your comments relate to what we try to do here at Reach 10—helping people get resources and support despite difficult things in their lives. Thanks so much for all you've done! It's been awesome hearing your point of view. What's next for you?
Lana: I'm going to get my master's in Social Work starting this fall. I want to help people to overcome habits and ways of life that are damaging in a hands-on way, most likely as a counselor. I would like to work with both perpetrators and victims of prostitution: I want to work with buyers of sex and help them understand that they are doing damage not only to themselves, but also to the people they exploit, their families, and society in general. I also want to work with victims through therapy, counseling, and life skill classes, and help them escape exploitation's vicious cycle. I'm excited to keep learning and serving, and I'm grateful for my many experiences leading me here!
We wanted to highlight Lana because of her incredible hard work and passion for helping people overcome difficulties in their lives, from long-standing habits to inability to escape an addiction cycle.
But we don't have to be public health majors like Lana to make a difference in the lives of people we know struggling with pornography. Simply reaching out to others and influencing those around us can create networks and bonds that lead to overcoming life struggles. No matter how young, inexperienced, or uneducated we may feel, with resources like Reach 10, we can help others and ourselves find peace and positive change, despite the realities of these challenging issues.
We can educate ourselves, too, and when we do we can see things differently like Lana has. We can influence real change. So reach out! You never know who you might influence for good.