How a 12-step group helped one young man go from struggling alone with pornography addiction to teaching others about finding recovery through connection.
Travis Spencer was stuck in a bad spot. Like so many other young people, pornography was infecting his life and he wanted his life back.
Travis had a pretty typical life. He grew up in Colorado and loves hiking and outdoor activities. He also loves movies and reading, but he insists that anything can be fun if you are with the right people.
Travis also finds hope and value in his faith. He is a member of the Church of Jesus Christ of Latter-day Saints. When he was in college he became more determined than ever to find healing and recovery from his struggle with pornography. He opened up (again) to his LDS Bishop, who advised him to seek help from a 12-step group.
It takes courage to walk into a 12-step meeting
Travis was nervous to try it, but he was ready to do anything that might help. He began attending a 12-step group offered by his church. He appreciated the spiritual perspective and the focus on seeking the power of healing through Jesus Christ and His atonement.
Over time, Travis was still searching for more help. A friend invited him to a Sexaholics Anonymous (SA) 12-step recovery group. Just the name was intimidating! Like most people, he was anxious about attending a group like this, wondering if it would be people who were "much worse than me."
At the very first meeting, he was reassured that he had found a safe place with others like him who struggled with pornography and wanted to change. The members welcomed him and stayed to talk after the meeting. He felt that "they were sincere and honest in a way that no one else was honest." This group took accountability seriously and encouraged Travis to find a sponsor.
What is a sponsor and how can they help?
A sponsor is a group member who has had a good length of sobriety and has worked on the steps ahead of you. They advise you as you work the steps and serve as someone you can call when you are tempted or feeling alone. They share what has worked for them, but they are not responsible for another person's recovery or sobriety. It is common for group members to contact their sponsor every day. SA Lifeline Foundation has some good guidelines for choosing a sponsor – Part 1 and Part 2.
Are 12-step groups only for people who are addicted to pornography?
Travis explains that levels of porn use can range from inadvertent exposure, occasional use, habitual use, and compulsive/addictive use. True addiction to pornography means that the individual is constantly seeking escape from the reality of their life. They give up on relationships and responsibilities and can't function without constant porn use. Read about some signs of addiction in our blog here.
Most people who use pornography are not in this category and we shouldn't conclude that someone has ever been involved with pornography is addicted. However, you don't have to have an addiction to attend a group, and anyone who would like help to overcome using pornography is welcome and can benefit. There are also support groups for family members and friends who are affected by a loved one's use of pornography.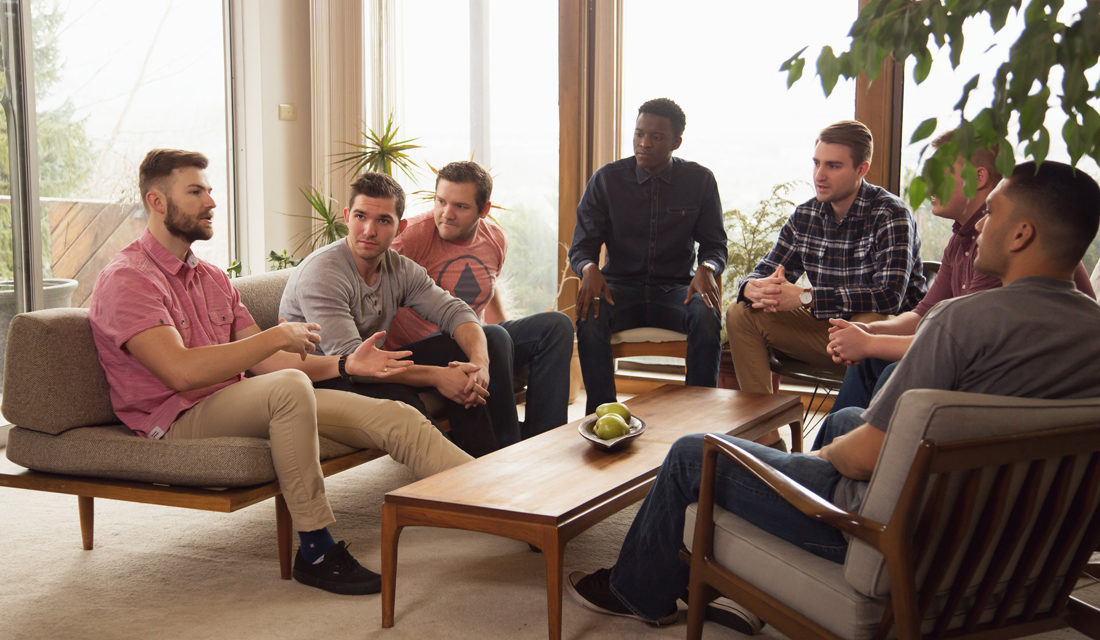 Should I go to a therapist or to a 12-step group?
Therapy from a counselor trained in pornography addiction offers individualized, professional guidance to learn skills for recovery. 12-step groups are not a replacement for therapy; they serve different purposes. Many people who are successful have a comprehensive plan to work with a therapist, attend a support group and work with a sponsor, seek spiritual guidance, and continue to get educated on the issue.
Travis found counseling helpful for overcoming the underlying causes of his addictive behavior, but he emphasizes that real connection with people in your life can't be replaced. "I meet a lot of people who think they can find recovery in an online program or just meeting with a therapist or their bishop, but everyone I see who is finding lasting recovery and sobriety has found some kind of support group of real people they can turn to when they need help."
Keeping up the connection
Travis doesn't just talk the talk, he walks the walk. He attends both an LDS addiction recovery group and an SA 12-step group each week. He aims to make 3 or more calls a day to group members or friends. He is so determined to make a difference on this issue that he is now in a Master's program studying to be a therapist. His research will look at what types of interventions have worked for people seeking recovery from pornography addiction.
12-step groups are a place to practice courage, compassion, and connection
Travis has discovered what many other people have learned. Support groups can change lives when they help people find connection with others who understand what they are going through. For many young people, a support group is the first chance they have to talk openly about their challenge.
All groups are not the same
Successful 12-step groups are honest, accountable, and compassionate with each other. They should help group members build supportive relationships with sponsors and other members outside of the meetings. Each group has their own personality, so it may take some time to find the right group, or help a group create a more effective culture.
How to know if your 12-step group has a strong culture of connection
Here are good signs that a group is putting the power of relationships into effect.
People are comfortable sharing both their successes and their challenges during the sharing portion of the meeting.
People visit with each other after the meeting.
Group members contact each other outside of meetings.
There is a clear expectation that everyone will work with a sponsor.
There is a process for helping group members find a sponsor.
The group emphasizes accountability to others.
There are members still attending who have achieved comfortable lengths of sobriety and recovery. This shows that the program works for people and they have developed social bonds that keep them coming back to help each other.
Ultimately, success depends on making connections with a sponsor and other group members. The group culture can make it easier, but each member has the responsibility to reach out.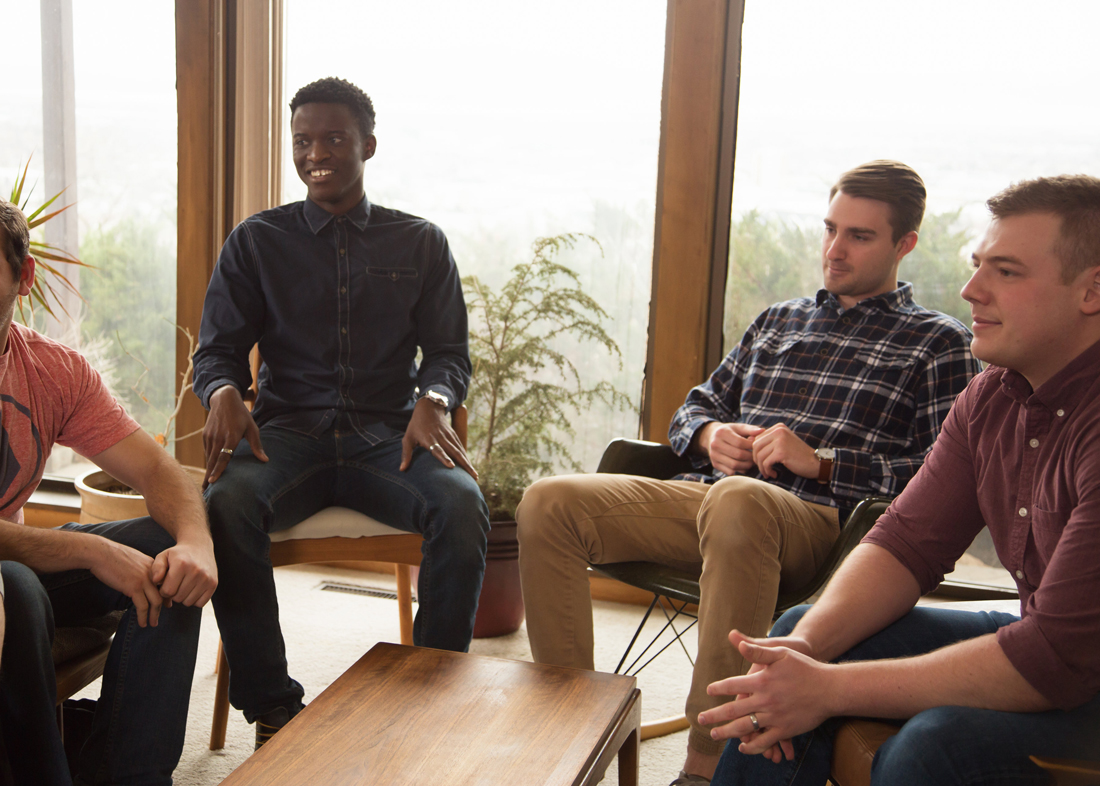 The benefits of 12-step groups
Travis says the best thing about belonging to 12-step groups has been the constant reminder to be humble and remember that he needs to contact others for support rather than to isolate and escape. Making connections in these groups continues to be a key to real progress in his recovery.
Communication skills learned in groups can help build other relationships
Being involved with 12-step groups helped Travis connect with other people in his life. He realized that the more vulnerable he is with someone, the more happiness he experiences in that relationship. He found that being willing to apologize or tell someone you need help lets the other person know you trust them and want a closer relationship with them. In turn, others also begin to feel safe sharing their challenges with you.
The communication skills Travis learned strengthened his relationship with his girlfriend. They recently became engaged and are making plans for a happy life together. He is looking forward to marrying someone who is so understanding and supportive, but who also holds him accountable.
Travis has worked to make it safe for his girlfriend to express how she feels about this issue. He actually has more boundaries in his life than ever before. They have weekly check-ins with each other about whatever is stressing them in their lives. The experiences of connection and vulnerability that he had in 12-step prepared him to be open and honest with a wonderful young woman who brings love and hope to his life.
Confidence gained through groups helps people be comfortable speaking up in public
As Travis made progress, he wanted to help others who might be stuck like he was. He and a friend received permission to teach a lesson on pornography addiction and recovery to the young adult men at church. The audience was laser-focused; he knew he had their attention because no one was on their phone! They were also able to teach the young adult women that it isn't just a guy problem and women who struggle are not alone. Before long they were teaching in other wards (LDS church congregations).
When Travis teaches about this issue, he emphasizes that the answer to addiction is connection: a sincere connection to God, to yourself, and to other people. A popular YouTube video explores this concept.
Connection through support groups leads to a more open culture in public
In many ways, successful 12-step support groups are a catalyst for changing the way we talk about pornography and the way we treat people who are struggling. Young adults who become more comfortable reaching out to others within support groups often begin talking with their friends and family more openly. As they help people be more at ease talking about this problem, they will create a ripple effect that will dissolve the silence and change the culture.
Check out our resource page for where find a local 12-step group.
What do you think about 12-step pornography addiction groups? Post a comment below and let us know!