Millenials today are the first generation to have grown up with Internet pornography, and are now living with the consequences.
Do you see the need for Millenials to be empowered to help solve the problems caused by the deluge of pornography in society? One of our main goals at Reach 10 is to prepare a new generation of leaders to step into roles of healing, advocacy, prevention, and education regarding pornography, sexualized media, and sexual exploitation.
Leadership is the ability to see a problem and be the solution.
Andrea Walker-Leidy
Reach 10 offers networking, education, practical experiences, and skill-building that will help young professionals get started creating healthy alternatives to the damaging culture surrounding them.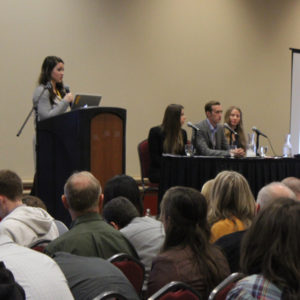 Leadership Team
Currently we have a Reach 10 Leadership Team working together in Provo – Orem, Utah.
Team members work on task force teams to create content, post social media, plan events, and do all that goes into running a nonprofit organization.
We hold regular workshops to educate our team.
Team members can participate in our Reach Impact Leadership program. These are meaningful, self-directed goals that will help young adults prepare to lead. When a member accomplishes 10 goals, they will be recognized and receive a certificate of achievement.
Does this sound like you?
You believe pornography is harmful.
You are passionate about helping improve relationships and change the culture of silence, shame and fear surrounding pornography.
You are between the ages of 18 – 32. Young adult men and women, both singles and married couples are welcome.
You have skills you want to use and develop working for the cause.
You have time to commit at least 8 hours a month to volunteer for Reach 10.
We welcome students who are interested in internships or class projects.
We have a limited number of team positions. If you are interested in applying for membership on the Reach 10 Leadership Team, please fill out this form.
If you live in outside of Utah County and would like to discuss the possibility of setting up a team in your area, contact us. We also would love to hear from responsible adults who have interest and resources for supporting our young adult leadership teams.
Leadership is a process of social influence which maximizes the efforts of others to achieve a goal. Kevin Kruse