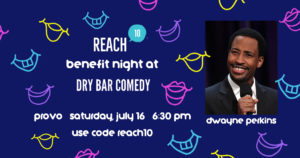 Enjoy something new and fun with friends at the Dry Bar Comedy on July 15th at 6:30 pm and do some social good at the same time!
Dry Bar Comedy is donating a generous part of the ticket sales for the 6:30 pm show on July 15th to Reach 10. We're pretty grateful for that! #reach10smiles
Dry Bar Comedy is a new, family-friendly comedy club started by the clean content company VidAngel. Now you can enjoy professional comedians from all over the country, right on Center Street in Provo.
Use the code REACH10 when you order tickets, and $7 of every main floor ticket will be donated to our cause!
It won't cost you anything extra and you will have a memorable night to add to your summer fun. Main floor tickets are $12 and balcony tickets are $8.
Bring your friends and family! You can share our Facebook event page  and website event page.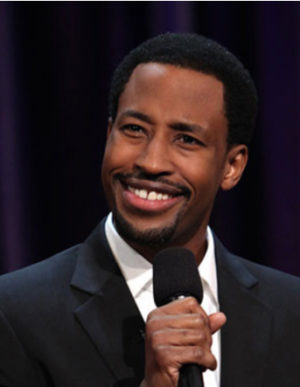 Dwayne Perkins and Al Greenwood  will bring a smile to your face. Brooklyn native Dwayne Perkins has earned a spot in today's elite class of stand-up comics with several appearances on Comedy Central® and on Conan. Al Goodwin is a winner on America's Funniest People. Al has been interviewed on The Billy Bush Show, and he has been seen in several PBS commercials.
What is Reach 10?
As you know, Millenials are the first generation to have grown up with easy access to Internet pornography, and they are now living with the consequences. Reach 10 prepares young adults to become leaders on the issue of pornography as they work to create a new culture of compassion, connection, and confidence to replace the shame, silence and fear that keep people isolated and stuck in the problems of pornography. Learn more on at reach10.org.
Your ticket will help provide an expense budget for 40 young adult leaders-in-training as they create a call-to-action campaign that will reach thousands of young adults with a culture-changing message.
So be sure to use the code REACH10 when you order tickets for the 6:30 pm comedy show on July 15th!
Thank you for supporting young adults who want to help each other with one of the biggest challenges of their time.